Hello my loves! Sorry I've been MIA for a while. I just got a new book, the
Fat Fast Cookbook
by Dana Carpender, and I spent last weekend reading through it and shopping for ingredients for some of these recipes. Now, I know I'm a bit of a diet fanatic, but I'm constantly on the search for a diet that works best for me personally. This is one of the only diets I've heard about with people claiming to have kept the weight off after a few days on this diet (or, "fast"), and in some instances have lost even more weight after resuming a low-carb lifestyle. Now, before you tell me this diet sounds crazy (which is the general consensus at first), hear me out.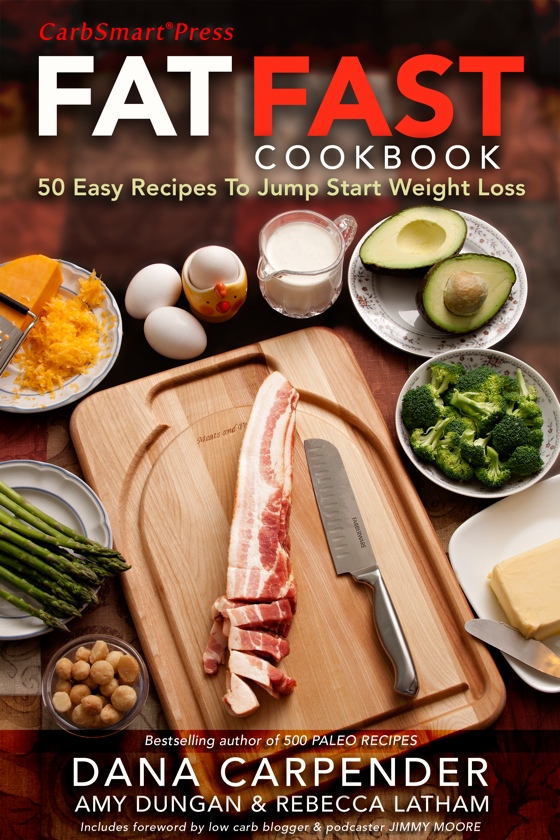 So, me being the fan of experiments that I am, decided to give it a try. Now, I've only been on it for two days but have lost 4 pounds (mostly water weight at the beginning, I know) and feel better than I have in weeks. The goal here is to keep your calorie count under 1,000 per day and to try to get 90% of those calories from fat. Sounds tough, doesn't it? Yeah, it is.
Atkins was a big fan of the Fat Fast back in the day, and he developed a strict guideline for those who wanted to try it out. Basically, he claimed only a few foods were capable of reaching the 90% threshold for fat intake -- macadamia nuts, cream cheese, pate, tuna or chicken salad with extra mayonnaise, Brie, egg yolks, whipped cream, and deviled eggs. Essentially, Atkins encouraged dieters to spread out their calories by eating 5 200-calorie meals from his list of foods for 3-5 days for maximum results.
Luckily, these days we have many more choices of foods on this type of fast, and this book provides a great background for the diet as well as 50 Fat Fast recipes and an explanation of the scientific evidence for how this method supposedly works. In addition to these recipes, I've found a few more online that I'm dying to try:
Minute Microwave Cheesecake
*via
Your Lighter Side
Ingredients:2 ounces cream cheese, softened
2 Tbsp sour cream
1 egg
½ tsp lemon juice
¼ tsp vanilla
2-4 Tbsp sugar replacement sub (taste as you go)
Instructions:
Mix all ingredients thoroughly in a microwave-safe bowl. Cook on high heat for 90 seconds, stirring every 30 seconds incorporating all ingredients. Refrigerate until serving.
Optional: Top with fresh fruit, whipped cream and nut meal.
Makes one, one-cup serving.
Per Serving: Calories: 299, Carbohydrates: 2.5 g, Fiber: 0 g, Net Carbohydrates: 2.5 g, Protein: 11 g, Fat: 27.6 g.
Fat Fast Mac-and-Cheese
*via Dana CarpenterIngredients:
1 packet tofu
shirataki
, preferably fettuccine width
2 tablespoons heavy cream
1 tablespoon whipped cream cheese
1 1/4 ounces cheddar cheese — shredded
Drain and rinse 1 packet of tofu
shirataki
— I like the fettuccine width or the hard-to-find macaroni version. Put 'em in a bowl, and nuke them on high for 90 seconds or so. Drain them again. Nuke them again. Drain them again. This should get the excess water out of them. Add everything else to the bowl, and stir till the cheese melts and you have a smooth sauce. That's all!
Per serving: 339 Calories; 33g Fat (86.4% calories from fat); 10g Protein; 2g Carbohydrate; trace Dietary Fiber
Chocolate Fat Bombs
Ingredients:
4tblsp pasture butter
8tblsp virgin & unrefined coconut oil
4tblsp unsweetened peanut butter
4tblsp unsweetened cocoa powder
1 packet Stevia or sweetener of choice
Silicone or plastic mold, 24 cups
Instructions: Place butter, coconut oil and peanut butter in a microwave-safe container - microwave on high for 35 seconds or until melted; whisk to combine. Add cocoa powder and sweetener - whisk to combine. Pour evenly into 24 molds - freeze for at least 30 minutes; store in the freezer in a Ziplock bag.
Per serving: 80 calories, 2g total carbs, 1g net carbs, 9g fat, 1g protein
Garlicky Creamed Mushrooms Fat Fast Recipe
*via
Dana Carpender
This makes two Fat-Fast "feedings" - warm the second one up in the microwave.
Ingredients
8 ounces sliced mushrooms
2 ½ tablespoons butter
2 tablespoons Boursin cheese
Instructions
In your big, heavy skillet, over medium heat, sauté the mushrooms in the butter until they soften and change color. Add the Boursin and stir until it melts. Serve.
Per serving: Calories: 215 Fat: 21g (83.9% calories from fat) Sugar: 0g Fiber: 1g Protein: 4g
Low-Carb Crab Rangoons
*via
ibreatheimhungry.com
(Side Note: on a Fat Fast, you can just eat the filling by itself if you want to up your fat intake.)
Ingredients:
8 oz cream cheese
6 oz "real" crab meat
1/2 cup chopped onions
15 rice paper wraps (9" round)
Oil for frying
Instructions
Combine the softened cream
cheese
, crab meat and onion in a food processor and pulse until combined. Set aside.
The rice paper wraps are hard and look almost like sheets of plastic. You'll have to soak them in warm water for about 30 seconds to soften them. Only do one or two at a time or they'll get too soft. Once soft, cut them into four quarters.
Place about a teaspoon of filling onto the center of each quarter. You can fold it over and press into a triangle shape, or you can roll them up like mini eggrolls. Let them sit for at least 2 minutes before frying, which helps the edges dry out and stick together, and prevents splattering oil from dropping them into the oil too wet.
Fry them in 375 degree (F) oil for about 2 minutes or until starting to brown. If they aren't browning, your oil is probably not hot enough. Remove and drain on paper towels. Serve immediately.
Approximate nutrition info per rangoon:

66 calories, 5g fat, 2g net carbs, 3g protein