I don't deserve to call myself a "blogger" at this point because I've honestly become so unbelievably terrible at keeping up with this thing. Either way, I promised you guys an update on the goings-on around here, so let's go ahead and cut to the chase.
At first I wasn't really planning on telling many people this (and to be honest I've really only told a select few of my close friends), but my dad was recently diagnosed with prostate cancer. I've done some research into it, and it doesn't seem to be as serious a condition as some other cancers, so there's that. He's having his prostate removed at the end of October and, according to his doctors, that's really the only treatment needed at this point. He scored in the middle range on the Gleason Scale, and it doesn't appear that the cancer has spread elsewhere. So I'm just sort of holding my breath and expecting that his surgery will go well and that the problem will be handled quickly and effectively.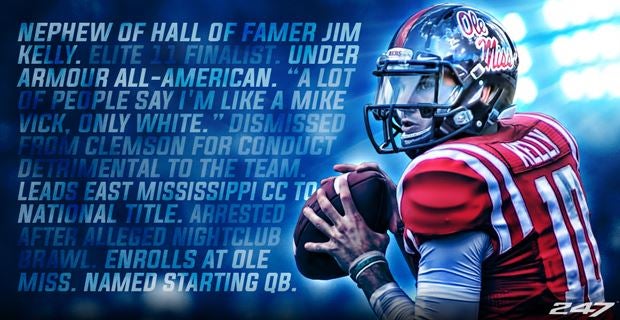 Chad Kelly, Ole Miss QB
On a much happier note, football season is among us! As you may have seen, I'm already busy looking forward to the Ole Miss - Alabama game tomorrow night ("looking forward to" might be a bit of an understatement). I have so much confidence in our new QB Chad Kelly and I know that our defense is one of the strongest in the country. A victory against #2 Alabama would pretty much guarantee us a chance to win the SEC championship. But that's all just a pipe dream until we prove we can actually do it. If you're a football fan, I highly recommend you tune in to ESPN tomorrow night at 9:15 p.m. for the game -- it's going to be a close one.
Work is crazy right now. Out of nowhere, our summer slump disappeared into thin air and everyone is juggling a little more than they can handle at the moment. But to be honest.. I'm totally fine with it. I'd rather have too much to do than not enough. That being said, this blog will probably be a little neglected (as if it isn't already) in the coming months until things calm down.
My birthday was fantastic. I received so many well wishes from my friends, family and coworkers that it really does put into focus how blessed I am. I was treated to many birthday lunches and happy hour drinks this week (speaking of which.. the diet starts Monday) by so many different people. I'm not saying I've accepted the one-year-closer-to-thirty mentality quite yet, but so far it's been made easy for me. I can't imagine what this year will bring, but I'm excited to find out.
Anyhow, that's about all I know at the moment. I hope everyone has a marvelous weekend and be sure to tune in to the game tomorrow night!!
Hotty Toddy, y'all!